Good morning to you all in the land of blog
Today sees the next amazing challenge at the
with the theme this week chosen by the very talented Jennifer and she has chosen
So Sweet
Anything that includes chocolate, candy or your favorite sweet in the design.
We have two fabulous sponsors this time around
a $25 Gift Cert to Simon Says Stamp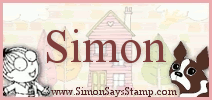 and
Now if I have not mentioned it for sometime, I still have to pinch myself that I am creating items using my favourite little critters with the best bunch of gals in the world, and they are the HM & F Monday Challenge Design Team
Happy Easter Ladies, you are the best!!!!!!!
Any way enough of that here is my design team inspirational piece, but don't forget to hop on over to the main challenge site to see the rest of the gorgeous creations by the team
The base layer is a mid grey as are the contrasts. The papers are from the Bloomsbury Collection available at Grimsby Crafts. The nestie tag holds one of the new Wild Rose sentiments, available at Grimsby Crafts. The ribbon is from stash as are the flowers and the pearls are from Grimsby Crafts.
Here are some close ups
The flowers
and the image coloured in copics, this image is called
HM "Pure Bliss" with Amanda and Mudpie in the chocolate box.
I would like to thank all of my wonderful visitors and followers for the lovely and inspirational comments you leave, which allows me to hop on over in return to see your own lovely work.
Also if you have created a HM Creation why not display it at
I would like to remind you all that my 800 follower candy is now running and can be entered
here
I would like to enter this creation into the following challenges
Addicted to Stamps
- Spring / Easter
Pan Pastels
- Sweet Treats
Cupcake Inspirations
- Photo inspirational
CMC
- Spring Pretties
One Stop Craft
- Pastels and Die cuts
Simon Says Stamp
- Favourite tool
Glue gun for my flowers (other wise they might fall off)
hugs