Good morning to you all in the land of blog
Today sees the next fabulous challenge at the
The theme this time has been chosen by the very talented "
Scoopy
" and she has chosen the theme of
Humour
and this challenge we are sponsored by the awesome Simon Says Stamp for an amaxing gift of $25, so you don't want to miss out.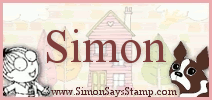 I struggled initially with an idea for this but then Matt came up with some fabulous humour for some of the stamps I already had, (so did not need to go buy a new one :( ) spoil sport isn't he :)
Any way here is my inspirational piece for this theme, but don't forget to hop on over to the main site to see oh so much more inspiration for this theme
I made a friendship card with chocolate humour lol xx
there is a close up of the computer generated sentiment further down this post.
The base layer and contrast is gold mirror card. The distressing has been done with TH Vintage Photo, papers ummmmmmmmmmm sorry forgot to record and little gold pearls from the Hobby House. The ribbon was a win, wired and fabulous
Here are some close ups, the image coloured in copics
The sentiment
"There's nothing better than a good friend......................
Except a good friend with chocolate"
Now as always I would like to thank all my wonderful visitors for their lovely inspirationally kind comments, which allows me to hop on back over to visit them in return.
Don't forget you can enter your creations here
I would like to enter this creation into the following challenges, thank you to Feline for the assistance in this