Good morning to you all in the land of blog
Today sees the next amazing challenge at the
with the theme this week chosen by the very talented Paula and she has chosen
We have two fabulous sponsors this time around
a $25 Gift Cert to Simon Says Stamp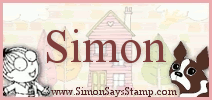 Here is my design team inspirational piece, but don't forget to hop on over to the main challenge site to see the rest of the gorgeous creations by the team
I made a get well soon card as to me you give fruit for people to get better, the healthy option that is and for this one an apple a day does keep the doctor away they say.
Now I knew that I wanted to use red and green, but blimey to get the coloured papers I wanted I dipped into my Xmas papers believe it or not, and again these papers are that old that they no longer have a front on them to identify them. Quite a simple layout with two panels of punch work by MS and some scrolls with some pearls from the Hobby House some distressing on the image plate and some over stamping with TH Olive distress ink pad. The flowers are from my stash from a variety of places.
Here is the image coloured in copics
this image is called "Spitting Apple seeds" Mudpie just obviously does not like them :) and it can be found here at the Simon Says Stamp Store
Hello to my new followers and as always I would like to thank all of my wonderful visitors and followers for the lovely and inspirational comments you leave, which allows me to hop on over in return to see your own lovely work.
Also if you have created a HM Creation why not display it at
I would like to remind you all that my 1000 follower candy is now running and can be entered
here
and the winner chosen by random org for my 1000 followers celebration for the House Mouse Challenge is
with this gorgeous creation
Congratulations
Anne
, please contact me here with your snail mail address
I would like to enter this creation into the following challenges
ATC's and Cards with Attitude - Anything Goes
Chocolate, Coffee and Cards - Anything Goes
Inspire me Fridays - Anything Goes
Charisma Cardz - Anything Goes